Time: 13:20
Date: 25 January 2020
Location: Library, Fife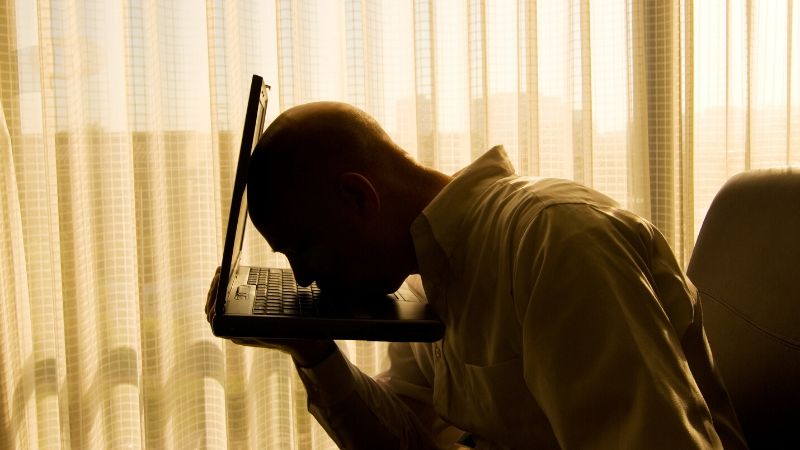 Disclaimer: Posts may contain affiliate links. As an Amazon Associate, we earn from qualifying purchases. For more info, read our disclosure policy.
So, I'm deviating from my usual journal format here and just dive into doing an activity that I think I really need.
Time-blocking.
Have you heard of it?
It's a time management tool that's purported to be the one tool that super-productive people are doing.
I just have to try this as I need to make sure I'm not majoring in minor things!
So, according to the guide, which you can find on Cassie Findlay, I need to start the process with a brain dump before trying to create a schedule.
By the way, she's got this really nice Excel template that you can download for free!
I happily gave up my email address for the chance to get my hands on it.
To be honest, fitting all of my to-do's in my day is a massive undertaking and currently an impossibility so I need all the help I can get.
This seems to be the perfect solution.
Brain dump all the things
Okay, so she said that I need to write all of the tasks I need to accomplish in a day, a week, a month and I reckon a year (though she didn't actually write that bit specifically).
So, I'll divide all of that in this section and see if I can find some peace just getting it all out.
Daily
Journal
Write at least 500 words for Live A Blissful Life post
Write at least 500 words for Jade MacRury post
Create at least one pin for each post I'm working on (per blog)
Meditate
Work out
Grocery top-up
Hoover
Put one load of washing in the machine
Wipe bathroom sink
Wipe kitchen counters
Wipe kitchen sink
Sleep
Time to reflect
Weekly
Beating the Blues (1x a week)
Jim Rohn One Year Success Plan (1x a week)
Blog Training
Pick up LS from nursery (3x a week)
Clean the toilet pan (3x a week)
Set up social media for the week (FB and Twitter)
Time to reflect (half a day)
Answer a HARO call (3x a week)
Answer a Quora question (3x a week)
Monthly
Time to reflect (one day)
Go on a fun family day out (1x a month)
Go to the bank and deposit money
Read a difficult book
Yearly
Time to reflect (1 weekend)
Spend uninterrupted time with extended family (2x a year)
Get the whole family involved
Possibly the one sentence in this whole post that really resonated with me is this: "I don't think my kids should wake up from nap/quiet time and have a magically clean house. They see me cleaning and now they WANT to clean, they WANT to organize."
Little Son is 3.5 years old so I can now ask him for help.
Sometimes, he's more than happy to do so.
Sometimes, he refuses or makes more of a mess.
And when I'm not too tired, I can react with grace when he does the latter rather than the former.
So, this is definitely an important reminder: Teaching children is done best by modelling the kind of behaviour you wish them to develop. If you want them to appreciate the value of a clean house, they need to see you cleaning the house (and loving it).
Note to self: Check your attitude and stop moaning about the house. Remember Jim Rohn's very important point on perils of complaining.
Time-blocked schedule
And this is my end product for this coming week.
I wasn't entirely sure if I did it right but I can't set my schedule too much in stone because there are far too many things happening and I need to give myself enough time to be able to complete them all.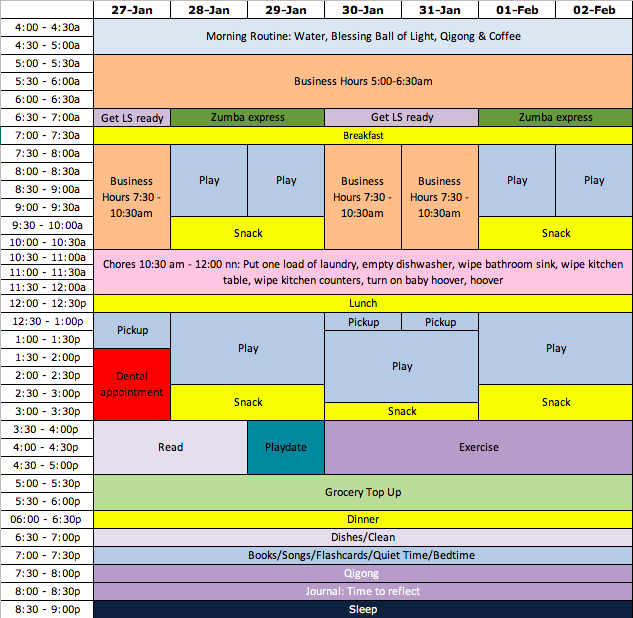 I feel so accomplished just now and I'm really looking forward to this coming week.
It looks like I can get everything completed after all. 🙂