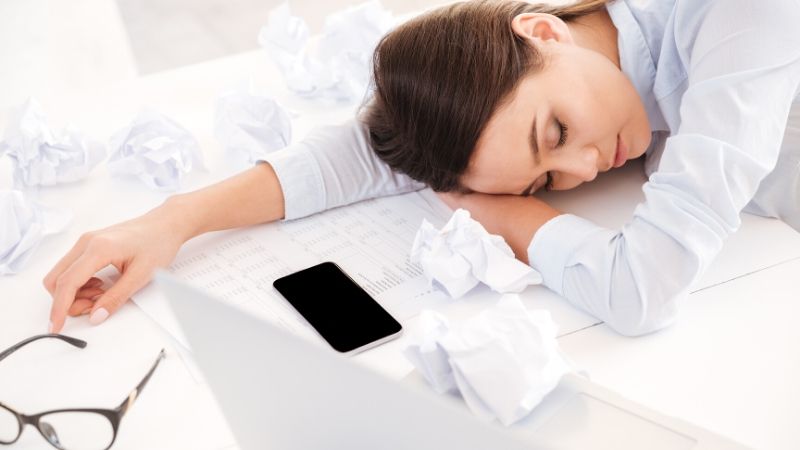 Disclaimer: Posts may contain affiliate links. As an Amazon Associate, we earn from qualifying purchases. For more info, read our disclosure policy.
Quote of the day
"… sleep deprivation is an illegal torture method outlawed by the Geneva Convention and international courts, but most of us do it to ourselves." ― Ryan Hurd
I am grateful for:
An ultra-quiet day because yep you guessed it, I was functioning on only 4 hours of sleep.
Why do I do this to myself?!
What did I discover new about myself?
I really need to create better sleep habits.
Why am I even procrastinating?
I know what happens when I try to work despite a sleep deficit – my mood deteriorates so bad that the smallest things set me off.
Of course, the smallest thing in close proximity happens to be my mini-me, who gets into all sorts of scrapes that I'm barely holding on to my sanity by the time 5 PM comes – bringing my husband with it.
Today, for example, he went mental in the afternoon because I'd tidied up the plaster and he absolutely needed one to replace the one on his "toe" (actually his foot), which was really ouchie (nothing was wrong with it).
I clung to my temper like Moana did in that huge storm that took her to Maui (Yep, one of the best movies of all time) and barely managed to reign it in. 🙂
Not that it's an excuse but if I had had enough sleep, I'd have reacted with far more grace than I have.
It'd have taken far less effort to do so too.
So, thank you, LS, for the reminder.
What was the best thing that happened to me today?
This actually happened last night but I'm adding it today because I only managed to implement the advice today.
Last night, I finally admitted that I hate Facebook share threads but feel obligated to do them because everybody seems to be doing them.
Another blogger contacted me first in the comments section and then later on by PM to give me her take on the question, a critique of my pins (greatly appreciated!) and her pinning strategy.
Today is the day that I'm following her advice and I'm excited and scared at the same time.
I hope what works for her will work for me too because I'm so ready for a change.
She did, however, have some really encouraging words for me and it made me feel better about my progress.
To paraphrase, Pinterest is like Google and needs to know that it can trust you, which is why it gets easier once you have your first 1,000 followers and then again when you get to 3,000 and then once more to 5,000 and onwards.
That really made sense to me but every other blogger says that the follower count is just a vanity metric.
I'm a few hundred more followers short of 1,000 so I still have a long way to go but this explains so much.
I'm super grateful.
What or who made today unforgettable?
LS: Mam, I wanna borrow your phone.
Me: Now? Why?
LS: Because I love you.
Now, who can refuse that?
3 amazing things that happened today
I finished the 5 new pins I made for my newly published post.
I got in touch with a few friends I've not been in contact for a while.
We had Chinese – and it was pretty fab! I didn't like the Shredded Chicken in Chilli and Honey but loved the Chips in Curry Sauce and Chicken Chow Mein.
The husband is convinced the chow mein is too dry but it was just right for me.
Even LS was scarfing it down.
How much stress did I experience?
In the morning, I must admit to feeling a bit stressed.
LS and I were going to exercise together.
We sometimes do the Zumba Fitness Total Body Transformation System and have tons of fun.
Unfortunately, our Xbox 360 was not cooperating today.
It just absolutely refused to eject the CD I knew was inside it.
And then I noticed that one of the CDs (along with its paper case) was gone so, in a panic, I asked LS if he'd put the whole thing inside.
He said yes.
Cue more panicking from me and frantic googling on the best way to open the blasted device.
I found one online, followed it to the letter, grumbled the entire time only to get to the CD drive itself with LS announcing, "Oh mam, it's not in there, after all."
The blasted fitness CD in question was on the sofa.
I was raging but was too exhausted to do anything about it so I just sat on the carpet, stewing.
To make things worse, the CD drive stopped working altogether and I had to tell the husband when he came home that he needed to fix it.
He couldn't do it either though he said he'll try tomorrow.
Let's see what happens.
Did I do something that was out my comfort zone?
Yes, I broke every warranty seal on the damned Xbox 360.
Thankfully, it's super old now so my husband didn't mind that I'd tinkered with it.
What can I do better tomorrow?
I'm definitely going to the local library tomorrow and get going with my blog.